LOGIC / MEMORY
Test Socket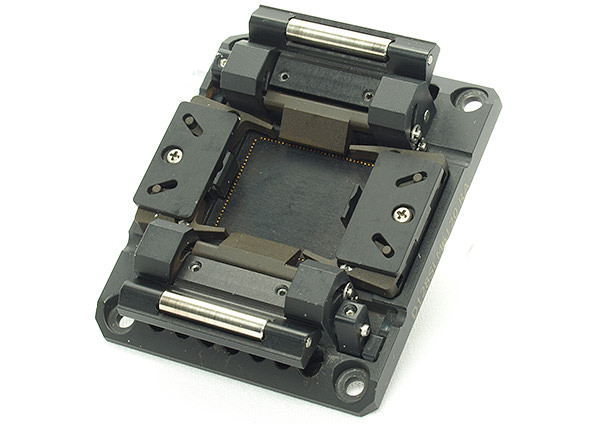 We can make propose sockets that correspond to almost all packages.
With custom products by cutting, the quantity of products can be manufactured from 1 piece.
Depending on the production quantity, it is also possible to manufacture molded sockets from making molds.
Materials are selected according to the device and test environment.
We can correspond to a wide range from small packages of 1.0 mm or less to ICs over 1,000 pins.
We are good at various mechanical designs, so contact us if you feel confused.
Burn-in Socket
Our products have been delivered to domestic major semiconductor manufacturers.
We reduced the size of the socket and minimized the board mounting area by making the socket mechanism compact.
You can choose the most suitable contact according to the socket's usage conditions. (Contacts applying for room temperature can be selected)
There is a PKG detachment mechanism against the sticking problem that occurs in the burn-in test.
We can correspond to various package shapes because it is possible to cut the socket adapte.
Socket basic specification
Basic specification
Contact pressure
11~14g/pin (support high temp.)
17~22g/pin (support high temp.)
Contact resistance (initial)
200~300m ohm
Adaptation temperature
-40 ~ +150℃
Maximum permissible current value
0.6amp