Analog / Digital
The development of Radio Frequency devices and modules is very active recently.
It can be used for various kinds of applications, such as smart phones/tablet, computer/electronic products, verhical, Medical device/industrial equipment,
SDK has a rich experience in designing and producing test sockets for high frequency.
Use a low-profile spring probe to suppress the length.
The signal road can be shortened and we can correspond to the high frequency in this way.
It is possible to acquire the S parameter and check the evaluation.
Differential Signal - 3dB@5.5GHz socket

Measured the S-Paremeter of differential signal(GSSG) under the

Signal path

It becomes S parameter of insertion loss Sdd21 up to 10 GHz

The socket corresponding to high frequency differs in the improvement for characteristic impredance from the existing
RF measurement and evaluation equipment
hardware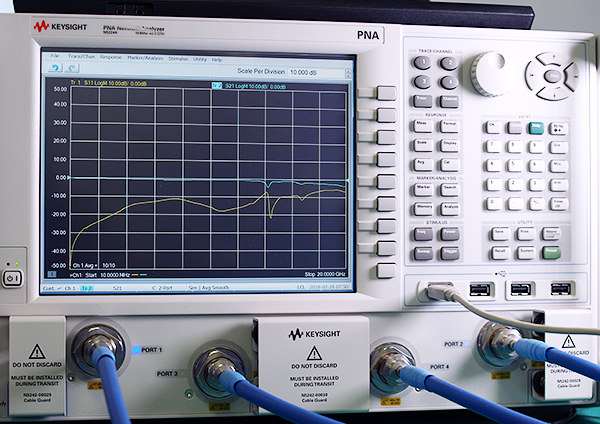 N5224A PNA microwave network analyzer 43.5GHz
The highest accuracy is achieved by S parameter measurement of key site
software Introduce ANSYS HFSS from elsewhere
In order to analyze RF and high-speed digital applications, we have imported industry-standard high-frequency electromagnetic field simulation software.